Nathan Gill would consider UKIP legal action if expelled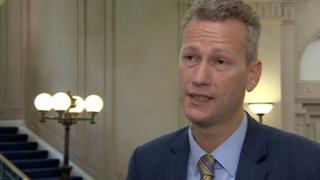 UKIP's leader in Wales said he would consider legal action if he is expelled from the party because of concerns over him working as an MEP and AM.
The party's National Executive Committee (NEC) voted to remove Nathan Gill unless he resigns from one of his elected positions.
But he said UKIP's former leader Nigel Farage told him "not to give in to them", describing the NEC as "bullies".
A group meeting of UKIP's AMs will discuss the issue on Tuesday.
But Mr Gill has said he will not attend.
He told BBC Radio Wales' Good Morning Wales programme: "The irony of it is we have been fighting for years for independence.
"Next week, if the NEC gets its way, I would be an independent."
Divisions
The row erupted after UKIP chairman Steve Crowther asked Mr Gill to honour a commitment to stand down as an MEP now he is an AM for North Wales.
But he refused, claiming the call was being made out of "malice" as part of a "proxy war" against loyalists to Mr Farage.
Mr Gill defended his ability to do both jobs, saying he could spend Monday, Tuesday and Wednesday in Cardiff and then "a couple of days" in Brussels.
While he said he would consider legal action if the NEC carries out its threat, Mr Gill said the body's "days are numbered".
He said candidates for the party's leadership, including Steven Woolfe, have vowed to "get rid of it".
Mr Gill also added divisions among the seven-strong UKIP assembly group could be overcome.
"There are very strong, decent people in that group," he said. "News flash, not all parties, not even all families get on."
He wants the focus to be on council elections in 2017 as the party builds towards the 2020 general election.
The NEC has been asked to respond to Mr Gill's claims