Eisteddfod creating buzz over Abergavenny's 'Bee of Gwent'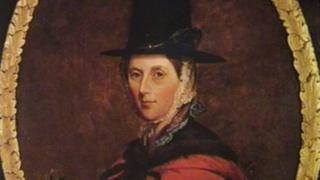 "Why are they bringing it to an English-speaking place like Abergavenny?" was a common response in the town when it was revealed as home of the 2016 National Eisteddfod.
With just 9.9% of Monmouthshire's population able to speak Welsh, perhaps locals could be excused for questioning its relevance to the area.
Yet, Abergavenny was holding its own Eisteddfod long before the first national event in 1861.
And, while many locals are unaware, it was home to one of the great Welsh language campaigners, without whom many cultural symbols may not have survived.
That the story of Lady Llanover has slipped from the wider public consciousness locally is something a society in her name is attempting to address.
Born Augusta Waddington in 1802, she inherited an estate on the outskirts of town and married Benjamin Hall, an MP and engineer, after whom Big Ben is named.
"People in Abergavenny may say 'what's the Eisteddfod coming here for?'
"What they don't know is that it was here before (in 1913) and a big reason for that was (the legacy of) an English woman," said Maureen Probert of the Lady Llanover Society.
"Maybe a nanny could speak Welsh, which is where she first heard it. But she carried it on. She had the money and she had the influence."
At a time when the language and culture was disappearing in Abergavenny, Lady Llanover built a woollen mill on her estate, where she produced traditional Welsh costumes.
She also helped found the first Welsh periodical for women - Y Gymraes - and a local language society in 1833, which helped it survive in the area.
To spread awareness of her contribution, the Lady Llanover Society was formed in 2003 and organises lectures, as well as launching a book on her at the National Eisteddfod.
It also works with local schoolchildren, giving them an opportunity to play the instrument she is most closely associated with - the triple harp.
"We just want to keep her memory alive. But unfortunately people here have forgotten about her," added Mrs Probert.
Ironically, while many locals may not know her story, National Eisteddfod visitors from other parts of the country were aware of her great contribution.
"She was a patron of the arts in this part of Wales - so enthusiastic about preserving elements of Welsh culture," said Elen Phillips, principal curator at St Fagans National History Museum.
"A lot of visitors (to the Eisteddfod) are very grateful and knowledgeable about her legacy. She is up there with our great heroes of Welsh history."
On display at the event was a triple harp awarded as a prize to Edward Hughes at Abergavenny's Eisteddfod in 1848 which is usually kept at St Fagans.
It was an instrument Lady Llanover fell in love with and she employed her own harp maker and player.
At every Eisteddfod in the town, she demanded there was a competition for the triple harp with the winner receiving one made on her estate that had a distinctive acorn motif on it.
"She fell in love with the language and culture and at a time when the area was becoming more anglicised, did everything she could to keep the Welsh language and traditions alive," said Fflur Gwynn of National Museum Wales.
"A lot of people believe that if it was not for her, the triple harp would not have survived."
It was perhaps the fact she lived in an industrial area, close to the English border where she could see the language in dramatic decline that made her resolve stronger.
"If she had been in the north or the west, there maybe wouldn't have been the urgency. It is where she lived that made her more passionate," added Ms Gwynn.
There are now about 40 players of the Welsh triple harp - an instrument played in markets and taverns that lost popularity after the invention of the pedal harp.
And in a border area once part of England, where lines of identity can become blurred, it is fitting that its survival is perhaps Abergavenny's greatest contribution to Welsh cultural history.
Ms Gwynn explained: "They call it a Welsh harp, but it was actually designed in Italy and adopted as a Welsh instrument."