Pop-up digital station BBC Radio Cymru Mwy to launch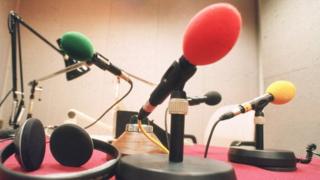 A pop-up digital radio station will launch in September in the run up to BBC Radio Cymru's 40th birthday.
Radio Cymru Mwy is due to run for 15 weeks from 19 September and broadcast every weekday morning.
The station will focus on more music and easy listening while the main Radio Cymru schedule continues as normal.
"The name BBC Radio Cymru Mwy says it all - more music, laughter and more choice for BBC Radio Cymru listeners," said editor Betsan Powys.
"As we prepare to celebrate BBC Radio Cymru's landmark 40th birthday in 2017, it's imperative that we continue to develop and innovate.
"The pop-up station is an opportunity for us to take advantage of new technology, but more importantly it gives listeners greater choice."
Radio Cymru turns 40 on 3 January, the day after the pop-up station finishes.