Gorsedd asks singer not to quit over Wales football row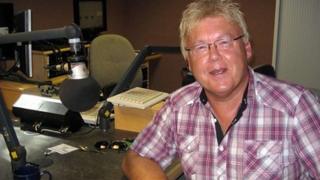 A singer who said he would leave the Gorsedd in protest at its refusal to honour the Wales football team has been asked to reconsider.
Arfon Wyn announced he was giving up his white robe on Friday.
There had been calls for the Welsh team and manager to be honoured at the Eisteddfod by Gorsedd Y Beirdd for reaching the semi-finals in Euro 2016.
But Archdruid Geraint Lloyd Owen rejected it, saying some players do not speak Welsh and standards must be kept.
Mr Wyn, a singer and songwriter with the group Y Moniars, said on his Facebook page he was "ashamed" of the Gorsedd's "myopic decision".
Gorsedd Recorder Penri Roberts has asked Mr Wyn to think again, saying "no-one has ever been rejected" by the Gorsedd since nominations for the honours list closed in February.
"I'm hoping that he'll reconsider waiving his membership, simply because no-one from the Wales squad has been rejected; on the contrary, we all are very proud of the team's achievement at the Euros.
"Since being the Gorsedd Recorder [for seven years], no-one has surrendered their membership before."
Elfed Roberts, the chief executive of the National Eisteddfod, said the cultural festival has got "nothing to say about the matter".
He added: "Arfon Wyn has resigned from the Gorsedd. It's nothing to do with the Eisteddfod. This is purely a matter for the Gorsedd."
The Eisteddfod has emphasised that the Gorsedd is a separate institution from the National Eisteddfod.
The Eisteddfod is taking place in Abergavenny, Monmouthshire, until 6 August.