The Welshman who helped England win the 1966 World Cup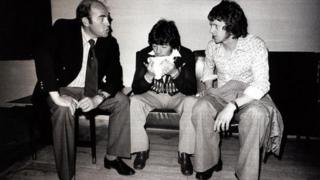 We all know who won the 1966 World Cup - England, 50 years ago on Saturday.
But they might not have been able to do it if it were not for the help of a Welshman.
Dr Neil Phillips was team doctor for the '66 World Cup winning squad, making sure the likes of Bobby Moore and Jack Charlton were fighting fit.
Born in Tredegar, Blaenau Gwent, in 1932, Dr Phillips was the youngest son of two teachers.
It was sheer luck that Dr Phillips got the opportunity to work with the team.
As his daughter Annie Onions explained to BBC Radio Wales, at the time, team doctors were volunteers who had to take time off from their paid jobs.
"Prior to the World Cup, the team had a two-week training camp," she said.
"Alan Bass, who was the doctor for the team, didn't have enough holiday.
"They phoned my dad, who was working with the under-23 side, and said, 'Can you cover the two week training camp?'"
'Irony'
Despite being a Welshman, Annie said Dr Phillips "absolutely loved" working for the England side.
"When he was growing up in Wales, he had trials for Glamorgan cricket team, and he was a big rugby fan.
"He loved the irony of the fact that he was doctor to the England football team. He was an honorary Englishman - but he was always Welsh.
"The thing he loved about it was that Alf Ramsay wanted him to befriend the players."
Conditions were very different to those provided for modern multi-millionaire footballers.
When Dr Phillips first turned up at the training camp, England had no medical plan, and they didn't even have a plaster.
"The only medical plan they had was that the players should be weighed, and their feet checked," Annie explained.
"So the first thing my dad did was go to the local pharmacist and bulk buy the whole shop."
'Commitment'
Alf Ramsay told Dr Phillips that "when they got to the final" he wanted him to be there.
"My dad thought, 'When we get the final? We haven't even kicked a ball yet. How do you know?'
"But he also knew the team's commitment, and he knew if they stuck with it they would win."
The physician went onto accompany England to the 1970 Mexico World Cup. He wrote a autobiography, Doctor to the World Champions, about his experiences.
Dr Phillips, who lived in Malvern, died in March 2015 aged 83.