Eisteddfod celebration marks 100 years since Cymanfa Ganu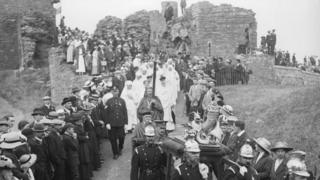 A celebration marking 100 years of the "Cymanfa Ganu" at the National Eisteddfod is set to take place on Sunday.
The hymn singing service was first held in Aberystwyth in 1916.
World War One secretary of war, David Lloyd George, arranged the Cymanfa as he believed singing would be "beneficial".
This year's Cymanfa Ganu will be held at the Eisteddfod Pavilion in Abergavenny at 20:00 BST.
In his address to the evening session a century ago, Lloyd George said he was there as a member of the Cymanfa Committee.
He said it was appropriate that it was held at a time of war so that the audience "could express in song feelings that they couldn't express in words".