Cardiff woman to compete at 2016 Transplant Games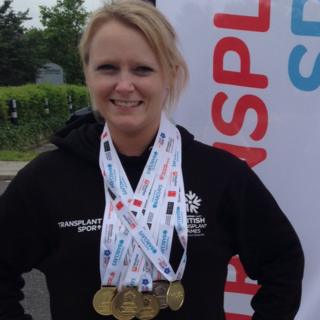 A woman from Cardiff who suffered unexplained, acute liver failure is set to compete at the 2016 Transplant Games.
Emma Wiltshire, 31, was working as a sports therapist for the Welsh athletics team in Portugal in 2014 when she had to undergo the transplant.
She is due to compete in the long jump and high jump at the games in Liverpool, which runs until Sunday.
"It is one of the best things I have ever done," she said.
In total, more than 700 people including organ donors and recipients will compete to raise awareness of organ donation in the UK.
Ms Wiltshire was able to receive a transplant within two days of falling ill, as Portugal operates an "opt out" system meaning a match was "found quickly".
Wales became the first nation in the UK to introduce the same system in December 2015, in a bid to increase the number of organ donors.
Before her liver failure, Ms Wiltshire had competed in athletics for more than 15 years, including sprinting for Great Britain at under-23 level.
After the transplant, she lost more than a quarter of her body weight as well as the ability to walk due to muscle wastage.
"It took me six months until I could even start running. But knowing I could compete in the Transplant Games was my incentive to get back on my feet," she said.
It will be the second time she has competed in the games, having taken home five gold and one silver medal last year.
"It's incredible. I'm just going to enjoy it and soak up the atmosphere but if I can also win medals, that would be fantastic," she added.
Stuart Davies, 50, from Pontyberem, Carmarthenshire, has also competed at the event after receiving his first kidney transplant in 1992.
He spent over seven years on dialysis while waiting for a second transplant, which was donated by his sister Hayley Balbini in 2009.
He has won a hoard of gold and silver medals at the games, recently taking part in long-distance running.
"I now have the energy to enjoy life with my family," he said.
"To know when you had that transplant, that you could compete and show people how well you'd become, it's a great feeling," he said.
"Your life changes after having a transplant and this has been a positive experience for me."