Benefits cheat claimed £72k while working as TV extra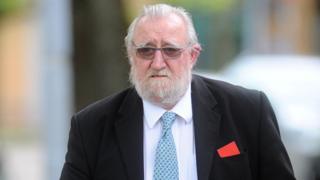 A television extra from Barry who featured in shows including Casualty has been jailed after swindling almost £72,000 in benefits.
John Lewis, 65, told the Department for Work and Pensions he was too ill to work and was virtually unable to walk.
Cardiff Crown Court heard he collected £54,597 in higher rate disability payments, £12,991 in income support and £4,408 in pension credit.
He admitted making dishonest benefit claims and was jailed for 20 weeks.
A judge was told Lewis was caught on camera "skipping across the road" as an extra in the Ralf Little-written Sky TV show The Cafe.
'Small minority'
An investigation also found the defendant made fleeting appearances in BBC dramas Sherlock and Torchwood while claiming benefits.
In his defence, Lewis said he had had a string of knee operations and some days were better than others.
A Department for Work and Pensions spokesman said: "Only a small minority of benefit claimants try to cheat the system, but cases like this show how we are rooting out fraudsters who are stealing money from taxpayers and diverting resources away from those who really need it."