Deliberate fires fall over 10 years across Wales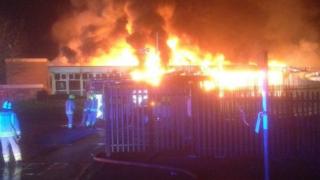 The number of fires deliberately started in buildings and cars, or those which led to casualties and people being rescued, has dropped by more than two thirds in the last 10 years.
There were 1,371 incidents in 2015-16 compared to more than 4,300 in 2006-07.
Forty-three people have died in that period as a result of those incidents which are called "primary fires".
Authorities said the fall was down to targeting the problem through raising awareness and education.
"We welcome the fall across Wales in the number of fires started deliberately but continue to work with fire and rescue services, the police, Natural Resources Wales and local authorities to prevent deliberate fire-setting," a Welsh Government spokeswoman said.
"The cost of arson to Welsh communities goes beyond the financial cost alone.
'Deterring people'
"We fund arson reduction teams across Wales who work closely with communities to reduce the incidence of arson, by deterring people from starting fires, identifying trends and areas of frequent activity, and helping the police to detect those responsible where appropriate."
An all-Wales Joint Arson Group (JAG) was launched in 2005 and is made up of the various groups the Welsh Government works with to tackle deliberate fires.
Official figures show an even greater fall for "secondary fires" - which relate to grass and bin fires as well as derelict buildings and abandoned vehicles where there are no casualties or rescues.
There were 5,757 arsons in 2015-16 while 10 years ago, there was 15,228 incidents.
However over the last year, the figures have risen slightly for primary and secondary deliberate fires.
Deliberate fires accounted for a third of all primary fires in 2015-16, up 13%, while there were more than 500 more secondary blazes on the previous 12 months.
A spokeswoman for North Wales Fire and Rescue Service said: "The main one for us in north Wales is to do with car fires.
"In Wrexham, there's been a spate of fires and there's a concentrated campaign we're doing with North Wales Police."
Andrew Thomas, assistant chief fire officer at South Wales Fire and Rescue Authority, said it had invested in prevention, education and intervention activities.
He added: "However, while the statistics showing the reduction in deliberate fires are encouraging, one deliberately set fire is one too many and I would urge individuals to refrain from this activity as it puts the lives of firefighters and the communities at risk."
Mid and West Wales Fire and Rescue Service deputy chief fire officer Mick Crennel, who is also chairman of the Wales Strategic Arson Reduction Board, said more could be achieved.
"I consider that the formation of the Wales Strategic Arson Reduction Board to provide strategic leadership during challenging financial times and increased community risk will assist us to continue to build upon the successes already achieved," he said.