Legal aid cuts 'causing advice desert and homelessness'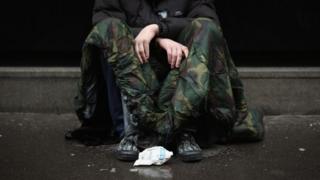 Cuts in legal aid have led to an advice "desert" that means more people are becoming homeless, it has been claimed.
The Law Society found 12 council areas in Wales have access to one firm with a contract to offer housing advice and called for a review of the system.
In April 2013, the government changed the types of legal aid available free.
The Ministry of Justice said it spent over £1.5bn on legal aid last year and it was identifying new suppliers to "safeguard provision".
But rights body Tenants Wales called access to free advocacy "critical", while Shelter Cymru said the situation has led to more homelessness.
In an effort to reform the system and save £350m a year, changes were made to what types of cases were eligible for public funds in April 2013.
One of the areas affected was advice on housing - with the Law Society of England and Wales publishing details of how many firms now offer free advice.
Four regions - north Wales, mid Wales, south west Wales and Rhondda Cynon Taff and Merthyr Tydfil (covering a combined area of 12 local authorities) each have access to just one firm of solicitors.
Other areas of Wales have access to three providers, with Bridgend, Cardiff and the Vale of Glamorgan having four between them.
'Urgent review'
The Law Society of England and Wales said this creates a number of issues - such as people on low income not being able to travel a long distance to meet a provider or firms simply not being able to cope with demand.
Chief executive Catherine Dixon said it is "vital" people who are facing eviction, homelessness or renting a property in "serious disrepair" gain help.
"Early legal advice on housing matters can make the difference between a family being made homeless or not," she said.
Ms Dixon claimed a "legal aid advice desert" has opened up at the same time as the demand for housing help has escalated.
She has called for an urgent review of the legal aid system.
John Puzey, director of charity Shelter Cymru, said the "narrowing of eligibility" of legal aid as well as its overall reduction, meant fewer people could be "assisted at an early enough point to prevent homelessness".
'Taking active steps'
He said it had been crucial for many people, adding: "Unfortunately it currently falls short of being as effective as it could be in helping people in need."
Tenants Wales managing director Steve Clarke said: "There is nothing so important than being able to maintain a roof over your head, with the ability to access professional legal advice absolutely critical at a time of housing crisis for many.
"Self advocacy is not recommended with such a complicated issue as housing law. This will place added pressure on voluntary organisations who themselves are facing huge cuts."
A Ministry of Justice spokesperson said: "Legal aid housing advice is available throughout England and Wales - either face-to-face or from the civil legal advice helpline.
"Last year we spent in excess of £1.5bn on legal aid, and have made sure support remains available in the most serious cases, including where people are facing losing their home.
"We are also taking active steps to ensure people are able to access the help they need, when they need it, including identifying new suppliers to safeguard provision."