Tata Steel: Excalibur buy-out team continues with bid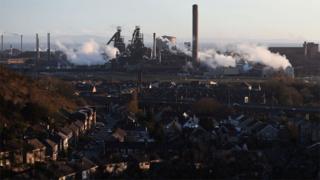 The team behind the management buy-out of Tata Steel's UK operation has confirmed it is continuing with its bid for the company.
The announcement comes despite Tata confirming earlier this month it was looking at other options.
This includes a joint venture with the German firm ThyssenKrupp.
Chief executive of Excalibur Stuart Wilkie is remaining in his post while the company continues to bid for Tata's UK operations.
Mr Wilkie is a senior director with Tata and he runs the Port Talbot and Llanwern plants.
But he is currently on paid leave to head the management buy-out team.
Indian-owned Tata has recently started joint venture talks with the German firm, ThyssenKrupp, and has put the sale of its Welsh operations on hold.
It is significant that Mr Wilkie is not being recalled to his post by Tata despite this.
That suggests that the tie-up with ThyssenKrupp is not the "done deal" that some thought and that it would consider improved bids for its Welsh sites.
Excalibur chairman Roger Maggs said it was developing plans to "advance our position in the potential acquisition of the UK business from Tata Steel".
That included an employee shareholding concept that was "a unique means to allow UK workers to take a direct stake in their industry and influence their own future".