Consultants' overtime costs soar in Welsh hospitals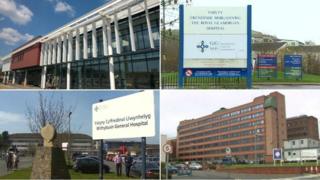 The cost of covering overtime payments for consultants at Welsh hospitals has rocketed by 61% in the last three years, BBC News has discovered.
The total bill in Wales went from just over £5m in 2013/14 to more than £8m in 2015/16, according to six of Wales' seven health boards.
It followed Freedom of Information requests to all UK NHS hospital bodies.
The Welsh Government said it is working to recruit more consultants and addressing specialist shortages.
The figures obtained by the BBC show one health board, Hywel Dda University Health Board covering mid and west Wales, saw its consultant overtime costs triple in the three-year period.
The bill went from £266,426 in 2013/14 to £806,354 by the end of the last financial year.
Two other boards - Abertawe Bro Morgannwg University Health Board (ABMU) and Aneurin Bevan University Health Board - also saw overtime costs more than double.
Increased demand
Officials at Aneurin Bevan said rising costs reflected measures it was taking to cut waiting lists and improve care.
"Due to the increasing demand for our services the health board has put in place additional clinics to provide extra appointments for our patients both out of hours and on weekends. This resulted in increased staffing costs," said a board spokesperson.
ABMU also said it had experienced higher than normal emergency pressures and it was working closely with the Welsh Government to reduce the need for extra operating lists.
However, two other health boards did see decreases, including the largest in Wales, Betsi Cadwaladr University Health Board, which covers north Wales.
It reduced its consultant overtime payments from £1.6m in 2013/14 to £775,000 in 2015/16 - a drop of 52%.
Powys Teaching Health Board also managed to cut its bill by 28% in the same three years - from just over £500,000 to £360,000.
Cardiff and Vale University Health Board, which runs Wales' largest hospital - the University Hospital of Wales - did not respond to the BBC request for information.
The picture in Wales is repeated across much of the UK, with the figures released to the BBC showing overtime payments have increased by a third in the last three years to £168m.
Hospitals have blamed the increased use of overtime on a shortage of consultants, meaning the only option is to pay for additional hours.
A spokesman for the British Medical Association, which represents doctors across Britain, said: "The fact is the NHS is only paying overtime on this scale because it does not have enough doctors to do the work."
Decisions on health spending in Wales are a devolved matter.
Responding to the overtime figures, a Welsh Government official said: "The demand for services provided by NHS Wales continues to grow.
"In order to address the challenges this poses, health boards have been working hard to recruit more staff, including consultants."
According to the government, the number of consultants working in the Welsh NHS has risen by 41% since 2005.
"It is also important to view these figures in context - the spend reported by Local Health Boards represents just over 0.1% of total LHB expenditure," the spokesman said.