Day with paramedic as Welsh Ambulance Service turns corner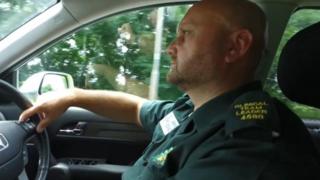 I spent a day in the north Wales with the Welsh Ambulance Service this week to see how the changes to how emergency calls are prioritised is working on the ground.
I went out with paramedic Osian Roberts, who has been working this patch for years.
We were in a rapid response vehicle - essentially a big car with high-tech equipment on board.
The idea is the car can potentially reach incidents quicker than a large ambulance - meaning a paramedic can be there sooner to make an assessment and provide initial care.
We started off in Colwyn Bay, but we can end up anywhere. There is a tracking system in the vehicle so ambulance control know where we are at any given time.
The calls are assessed according to how life-threatening they are - it could lead to a helicopter and two ambulances being brought in, or a referral to NHS Direct, depending on the seriousness of the case.
ROAD TRAFFIC COLLISION
First there was a call to a road crash involving two vehicles with the report of a child injured in one of the cars.
This is a coded "red" emergency call. We headed off at speed, but police had already arrived at the scene and they had called control to say there was no-one hurt. Mr Roberts was stood down.
ELDERLY PATIENT FALL
Next was a "bread and butter" call to an elderly patient who had fallen and had bumped his head. After his wife raised the alarm, a 999 call was made.
It was classed as "amber" and the aim is to get there within 20 minutes although it is not subject to a target.
Tommy, 91, from Prestatyn, Denbighshire, a former aircraft engineer who has a stroke history, slipped and fell on a tiled floor and could not get up.
"I'm paralysed on the right side so if I do fall, I can't get up," he told me, as Mr Roberts checked him and took some details.
"He wasn't injured, I managed to get him up and checked him over - he was fine and he is going to stay at home," Mr Roberts said.
"We didn't know why he'd fallen - so I checked his heart, blood pressure, blood sugar levels, just to check he was OK and decided he could stay at home."
He did not call for back-up, so the emergency ambulance that might have called was not needed and could go to a higher priority call.
Have the changes made a difference?
"We're more clinically-focused service," Mr Roberts said.
"Where before we were trying to get there as quickly as we can, sometimes the outcome was good, sometimes it was bad.
"With the training, the technology and the equipment we have on the vehicles it's not necessary that we take everyone to hospital. For instance, a diabetic or epileptic patient, we can treat them at home with different drugs."
Mr Roberts believes the service has turned a corner and the changes to how ambulances respond now is a positive move.
"Ultimately, we get the right people to the right patients at the right time," he said.
"The people who are more serious will receive care within the eight minutes - that's what we're trying to achieve."