'Huge responsibility' for National Theatre Wales director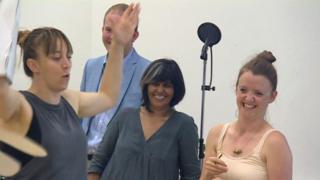 When National Theatre Wales advertised for a new artistic director, Kully Thiarai said the chance to join the company was too good to miss.
"It is an extraordinary organisation," she said, as we wait to watch the company rehearse its latest production.
"The responsibility to make great art for the whole of Wales was too enviable an opportunity to pass."
She joined this year after Wales' cultural community waved off John McGrath, National Theatre Wales' (NTW's) founding artistic director, who left to run Manchester International Festival.
Under McGrath, NTW established itself as a truly national company, taking productions to hillsides, aircraft hangars and village halls across Wales.
And its ethos, to take Wales to the world and bring the world to Wales, took NTW to perform in Japan and brought global talent to stage distinctively Welsh theatre at home.
The rehearsal we watched together was for Wonderman, a co-production with Gagglebabble that will premiere at the Edinburgh Fringe before touring Wales.
'Creating aspiration'
It is based on Roald Dahl's stories for adults and will be the appetiser for an epic weekend of live theatre co-produced by NTW to mark Dahl's centenary.
City of the Unexpected will bring Dahl's colourful characters to the streets of Cardiff in September.
It is the expansive work of NTW that caught Thiarai's eye as she was making her own mark at Doncaster's new £22m Cast theatre as its artistic director.
"I think NTW has built such an enormous commitment to people and place across the country, and made a really national an international impact. It feels a huge responsibility, but also a really exciting opportunity to take the helm."
At the time of her appointment, much was made of Thiarai's background; only the second woman to run one of the UK's national theatres and the first Asian person to do so.
Now she is in post, she wants NTW to give a voice and a vision to Welsh communities who are often overlooked and prompt them to use the arts to realise their ambition.
"How do we create creativity in a community, how do we support leadership in a community, how do we enable people to use the arts to find themselves, and problem-solve about how we might collectively create a better future for everyone?
"I think there are two things that the arts do really well and I think National Theatre Wales has done extraordinarily well.
"One is to help shape and tell stories that perhaps don't get told on our national stages and represent a nation from its own perspective.
"The second is that sense of creating aspiration and having an internationalist view of the world. What is Wales' place in the world, and how might we want to help shape that? The arts can help us do that."
Artist with a 'genuine connection'
Brought up in West Bromwich in the West Midlands
Worked with Red Ladder Theatre Company and Major Road in Yorkshire
Artistic director of Contact Theatre, Manchester and Leicester's Haymarket Theatre
Directed The Soul Exchange, which saw audience members driven around Butetown, Cardiff in taxis
Became director of the new £22m Cast theatre in Doncaster, which opened in 2013
Trustee of the Manchester International Festival
"Thiarai is a breath of fresh air and exceptionally well placed to ensure that NTW is an arts organisation that is original, radical and relevant in the 21st Century. She has proved that she is generous-spirited, a natural collaborator and one of the arts world's great enablers." Lyn Gardner, the Guardian
"Under Kully's leadership, Cast's programme of high quality work and genuine connection to the people and the town has put Doncaster firmly on the UK's cultural map". Sheffield Telegraph
"Kully being offered such a hugely prestigious national role is testimony to the fantastic success, and great reputation she has achieved for Cast in just two and a half years." Andy Carver, chairman of the board of trustees, Cast
Thiarai has quickly adapted to a role that is less about settling in as artistic director and more akin to climbing aboard a swaying, speeding wagon of theatrical variety.
Her vision is precise. She wants boundaries to be broken by confident, compelling theatre.
"I think our ambition remains that we really push the art form. That we experiment, and be bold and brave in the work that we make and that we take our audiences with us."