Legal & General looks to more investment deals in Wales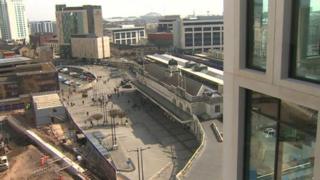 The boss of the investment arm of Legal & General said he is looking to do more deals in Wales.
Legal & General Capital (LGC) is already involved in nine UK regeneration projects and has invested £6.3bn since it was founded in 2013.
Managing director Paul Stanworth said there had been a "huge response" to the £400m Central Square development in Cardiff.
LGC is involved in a joint venture with property company Rightacres.
The city centre development is expected to create over 10,000 local jobs, according to the company.
Mr Stanworth told the BBC's Wales At Work programme: "We've seen a huge response to that investment and a very positive response from industry as well and we'd like to do further investments throughout housing and regeneration in Wales and on the energy side and are very closely liaising with the authorities there."
Insurance giant Legal & General manages pension funds, looks to invest in housing, infrastructure and small and medium sized businesses.
Mr Stanworth heads a £1.3bn pensions and insurance fund, which is also looking to invest in renewable energy.
He said the energy sector was at a "crossroads" as it looked beyond projects which relied heavily on subsidy.
"The opportunities in Wales cover tidal projects, wind and solar and there's some fantastic work being done throughout Wales such as in Swansea in terms of energy efficiency in housing," he said.
"We see energy not just as a question of buying into generation but how to integrate energy into housing and industry because we believe the new world of clean energy - which is our focus - will be different from the old one."
LGC was also a "natural partner" for local authorities in helping finance house building and regeneration, which was a new way of doing business.
Mr Stanworth said although there was something of a pause in developments since the Brexit vote, he was positive there are investors still looking at the UK.
"The quick change in government and some of the statements made more recently have given a lot more confidence in the direction of travel we're likely to go in," he said.
"There are still people looking to invest in the UK despite foreign exchange changes. I think the pause could be shorter than people expect because we're getting policy certainty quicker than we perhaps expected."