Royal Welsh Show: Blacksmiths forge World War One memorial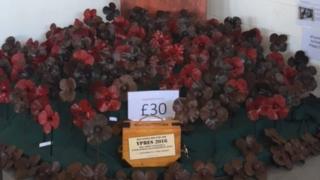 Visitors to the Royal Welsh Show in Powys have been able to see the construction of a unique war memorial.
Blacksmiths from all over the world have come together to make a cenotaph to remember the suffering of World War One.
Standing at 23ft (7m) tall, it features a field of 2016 poppies which have been forged by blacksmiths from as far afield as Mexico and South Africa, as well as school children from Wales.
It will be erected in Belgium.
Carmarthenshire blacksmith Andrew Rowe was working on the cenotaph at the farriers and metalworking stand at the Royal Welsh Show in Llanelwedd, near Builth Wells.
Speaking to BBC Radio Wales he said it was to remember "all suffering."
"There were over 3,000 blacksmiths and farriers involved in the First World War," he said, as well as eight million horses, but "not that many survived."
"Some died horrific deaths, as did the soldiers," he said.
"The poppies are in memory of those who died, but the cenotaph itself is to remember those who suffered also - the mothers, the aunties, the grandmothers, the brothers and sisters who were at home not knowing what was happening."
His sister Eira Rowe, an organiser at the Royal Welsh Show, said blacksmiths have each been sent a poppy template to begin with, but after that "every poppy is unique".
"They're simple but they're beautiful," she said.
To raise funds for the project, the idea of a Belgian blacksmith, additional poppies have been put on sale, helping to raise £140,000 so far.
The cenotaph will be erected by 25 teams of blacksmiths in Ypres during the first week of September.