Removing Wylfa nuclear plant's radioactive fuel 'priority'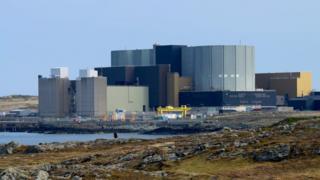 The push to recover used radioactive fuel from the last nuclear power station of its kind is under way.
Wylfa nuclear plant's last reactor was turned off after 44 years at an outage ceremony on Anglesey in December.
Workers have spent the past six months putting decommissioning plans into action, including a new safety regime.
Removing 800 tonnes of spent Magnox fuel will now be the "dominant" focus over the next three years, officials have said.
"Once we are fuel free, over 99% of all the radioactivity on the site will have left," said Gordon Malcolm, deputy site director at Wylfa.
"Then the whole site moves on to the next phase of work, preparations for care and maintenance... which will last for the rest of this century."
Spent fuel from Wylfa will be taken to Sellafield in Cumbria for reprocessing, before much of the site is cleared, leaving just the reactor buildings and fuel stores.
According to officials, 99% of the fuel used to power Reactor One remains on site after it was shut down last year.
On top of this, 60% of the old fuel used in Reactor Two until it was closed in 2012 is also at Wylfa.
The move from power generation to defuelling the reactors has seen about 90 posts go at the plant - fewer than initially anticipated.
Mr Malcolm said the vast majority of those who had left Wylfa have either taken retirement or found new positions, including about 20 people who moved to work at the former Trawsfynydd nuclear plant in Gwynedd, which has been undergoing decommissioning since it closed in 1991.
"Obviously we are pleased to see them stay in the industry and stay in north Wales."
Site staff also have one eye on developments next to their plant, where there are plans for a new nuclear plant built by Japanese-owned Horizon Nuclear Power.
The Wylfa Newydd developers are still waiting for approval to use their design for a new reactor and hope to submit planning applications in 2017.
In the meantime, Horizon has been carrying out preliminary site investigations, including a seabed study.
"We can anticipate, obviously, that as their work programme advances and gets more complicated, there is more potential for interruption on our site," added Mr Malcolm.
"It is more important that we understand and co-operate and try to help them - we don't want to obstruct what they want to do."