Welsh Cavalry adopt mountain pony as new mascot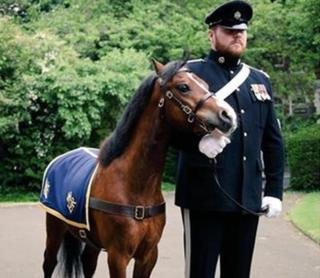 A three-year-old Welsh mountain pony has become the first mascot of the Welsh Cavalry.
Trooper Emrys Forlan Jones has been training with Farrier Major Miles Davies of 1st The Queen's Dragoon Guards.
He comes from a distinguished line of Welsh ponies and is currently on show at the Royal Welsh.
Cpl Davies said: "All the other ponies in the field are jealous."
The Queen accepted a recommendation that the Welsh Cavalry be allowed to keep Trooper Jones as their first ever pony mascot in February.
The pony made his first appearance at the state opening of the Welsh Assembly
He comes from Betty French's Forlan Stud in Chippenham, Wiltshire.
Speaking to BBC Radio Wales from the Royal Welsh Show in Llanelwedd, near Builth Wells, Powys, she said: "I've got a name for having quiet ponies. He's going to have to get used to lots of marching and lots of noise.
"I am proud it's one of my ponies, but it's also promoting the Welsh Cavalry and the Welsh Pony and Cob Society of which I am president."
'Strong bond'
Cpl Davies looks after Trooper Jones and said they chose a Welsh mountain pony as their mascot to keep in touch with their Welsh heritage and the tradition of the Welsh Cavalry charging into battle on horseback.
He said: "Every day he's getting stronger and the bond between me and him is very strong.
"He's got a good position - all the other ponies in the field are jealous of him."