Care qualifications 'confusing' in Wales says watchdog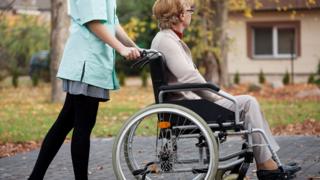 The way people working in childcare, care homes and hospitals are trained needs to change, a watchdog has said.
A review of qualifications in the health and social care sectors found they were "complex, confusing, patchy" and "potentially misleading".
Qualifications Wales said key subjects like dementia care should be included in assessing those working with older people.
Work will begin on developing a new range of qualifications by autumn 2019.
Health and social care is the largest employment sector in Wales and it is estimated 216,000 people will be working in the sector in Wales by 2017 - including a quarter of all women who work.
Qualifications Wales was established in September 2015 to oversee the qualifications system and it is reviewing key employment sectors to establish whether the qualifications provide the right skills for those working in the field.
Although there is praise for the bodies working in health and social care, the report said the overall qualification system for the sector was not "fully effective or efficient".
It added: "The range of qualifications in the sector is complex, confusing, patchy, potentially misleading and, most significantly, does not provide a clear pathway of progression for learners to reach their chosen destination."
There should be a greater focus on dementia care for those pursuing careers looking after older people, according to the report, and childcare qualifications should place greater emphasis on managing play.
There were also concerns about the extent to which qualifications can be transferred between England and Wales, as the systems become increasingly different.
"There is an increased risk that learners who want to work across borders may be disadvantaged taking their qualification in one country or the other," it said.
The competence of some assessors was questioned and there were indications it was "difficult for learners not to pass" some qualifications.
Overall, it said: "There is a high risk of inconsistent assessment, meaning that the same qualifications awarded to different learners are unlikely to always indicate the same level of achievement."
It warned there were not enough opportunities for learners to be assessed through the medium of Welsh, with a shortage of Welsh speaking tutors and assessors.
Carers should equip them with skills to address the "communication and cultural needs" of Welsh speakers, it said.
Cassy Taylor, from Qualifications Wales, said: "The sectors employ tens of thousands of people in Wales, caring for some of the most vulnerable members of society and those who are tasked with these responsible jobs need to be properly qualified and have access to high quality training and learning."
Sarah McCarty, director of learning and development with the Care Council for Wales, added: "We are moving towards a new era of social care and we agree that it is vital that we have a range of qualifications which are fit for the future to support a skilled and confident workforce."