AMs criticise BBC managers for portrayal of Wales on TV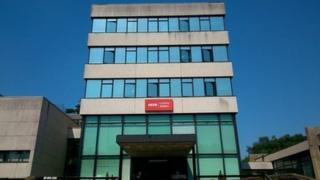 The BBC has been accused of using "hollow words" over commitments to improve the portrayal of Wales in its programmes.
In an assembly debate on the BBC, Labour's Lee Waters said senior managers in London took Wales "for granted".
He said: "The BBC management has so far shown itself to be tone deaf to the changing shape of the UK."
The BBC said content made across the UK nations was "an important priority".
Mr Waters said the BBC's senior managers had long promised to improve the portrayal of Wales on screen, but accused them of using "hollow words".
BBC director general Tony Hall previously conceded that English language programming from Wales had "eroded".
In November 2015 he told an assembly committee that budget cuts, rather than management failures, were behind the decline in programming.
Plaid Cymru's Bethan Jenkins said AMs had been told several times by BBC bosses they would improve the portrayal of Wales on its programmes, but said: "My message today is that you need to show that you are going to do that now."
Mr Waters said declines in BBC programming about Wales reflected a wider issue about coverage of Welsh life by the media.
"At at time when Wales as a nation has never been more clearly defined, the sources of information for debate and scrutiny about our country are drying up."
Alun Davies, the Welsh government minister with responsibility for broadcasting, said he shared concerns about structural changes to the BBC which will remove the director of BBC Wales from the executive team and replace him with a director with responsibility for all the nations and regions of the UK.
However, a BBC spokesman said: "Under the BBC's new governance structure Wales will be represented by not only a specific member of the new unitary board, but also by the director of nations and regions who will sit on the BBC Executive Committee.
"Last year, the percentage of network productions made in Wales increased and we have made clear that nations content is an important priority in the next Charter period."