S4C sees big increase in online viewing numbers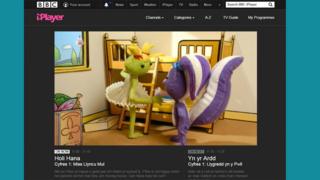 There has been a significant rise in online viewers of S4C in 2015/16, the channel's annual report has said.
Viewing sessions on S4C's website and the BBC iPlayer totalled 8.4m, compared with 5.7m the previous year.
But the number of people viewing the channel on TV in Wales each week fell by 5%.
The Welsh language broadcaster said this was in line with a general fall in traditional TV viewing affecting all public service broadcasters.
An average of 343,000 people watched the channel in Wales each week, compared to 360,000 in 2014/15.
But across the UK there was an increase in those watching S4C on television, with an average of 629,000 watching each week compared to 605,000 the previous year.
Chairman Huw Jones said it was vital S4C continued to make its programmes available on multiple platforms.
"S4C must position itself at the heart of such technical developments - and note carefully those programme strands and other kinds of content which are sought out on those platforms and which thus achieve longevity and deliver value in ways previously unthought of."
S4C
In numbers
629,000 average weekly viewers in the UK, up from 605,000

343,000 average weekly viewers in Wales, down from 360,000

161,000 Welsh-speakers watch in Wales in average week, down from 173,000

8.4m viewing sessions online

79% of Welsh-speaking adults watching S4C each week
Chief executive Ian Jones said the increase in online access to the channel had offset a drop in TV viewers in Wales.
"Once again the online increase in particular was very strong - almost 200% higher than the previous year in S4C's first full year as an independent channel on iPlayer."
An independent review of S4C in 2017, commissioned by the UK government, will examine the channel's role and remit.
Mr Jones said: "We must ensure sufficient funding for the channel along with its continued independence; meet the creative challenges involved in attracting the population's attention within a media landscape full of rich, exciting and multitalented players; find the new platforms which are popular with the audience and ensure S4C's place on them and continue to make a vitally important contribution to our language, culture and economy."