Boy's scurvy case decision 'appalling', says AM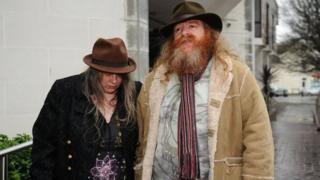 A decision to drop a case against the parents of an eight-year-old boy who died of scurvy has been described as "appalling" in the Welsh Assembly.
Dylan Seabridge became ill at his family's isolated farmhouse in Pembrokeshire and died in 2011.
Glynn and Julie Seabridge were charged with neglect but those charges were dropped in 2014 and not guilty verdicts were entered without a trial.
An independent review into the death was being debated by AMs on Tuesday.
Darren Millar, who is on the Children and Young People Committee, told the Senedd: "I'm appalled at the CPS's decision not to prosecute. I looked at the reasons why and it talks about the health and well being of the parents, it wasn't about the evidence, it was all about the parents.
"Given that the same individuals took out cases with an employer and contested them, I would have suggested that their health was in reasonable shape to go through the courts.
"We need to make an example of this, it shouldn't be dropped."
The parents, from Dolau in Eglwyswrw, disputed an inquest ruling that their son died from scurvy, a rare condition caused by lack of vitamin C. They said they did not believe he had scurvy and thought he was suffering from growing pains.
The Child Practice Review into Dylan's death was published last Friday.
It called on the Welsh Government to introduce a compulsory register of home educated children.
Carl Sargeant, the Cabinet Secretary for Communities and Children, said he did not think a register in isolation would prevent another death. He also said that he could not be sure "there were not other Dylan's out there".
"This was a highly complex case and you would not expect me, or my cabinet colleagues, to respond in a knee jerk manner," he added.
"That said I can report that whilst it is not routine practice to respond to Child Practice Reviews, I and my cabinet colleagues feel that the unique issues raised by this case warrant us writing immediately to all safeguarding boards in Wales and the National Independent Safeguarding Board drawing their attention to the issues raised and the findings of this report."
Mr Millar asked Mr Sargeant whether he had had discussions with the CPS and whether there was scope for the CPS to reopen the case.
Mr Sargeant said he would not offer a view on that but said that lessons needed to be learned from the case and that the findings of the child practice review would be considered.
"We need to recognise prompts - for example when immunisations are missed - and we need to explore those on an inter-agency approach," he said.
"The purpose of a child practice review is to improve services and this is what we intend to do, learn lessons and improve services."
He said the Social Services and Wellbeing Act had strengthened safeguarding and had introduced a new duty to report concerns of abuse or neglect.
'We didn't listen'
Plaid Cymru AM, Simon Thomas, said he was disappointed with the statement.
"Attempts to see Dylan were made by education officers, but they did not have a statutory right to see him," he said.
"That's been addressed in the child practice review with a clear recommendation - a compulsory register of home educated children.
"This is a missing piece - are you kicking it again into the long grass?"
Criticism also came from Carmarthen West and South Pembrokeshire AM Angela Burns, who earlier this year called for an independent inquiry into the handling of the case.
"Let's be really clear, Pembrokeshire children services was in special measures," she said. "There was a ministerial group, Estyn, CSSIW and no one thought 'there's a death of a child and no-one is investigating'.
"Also, the whistleblower should have been protected. They had a terrible time of it in their job and were treated badly by the review body. We're here to protect whistleblowers. Someone tried to tell us we were doing wrong and we didn't listen."