Barry man's drug plea to beat rare kidney disease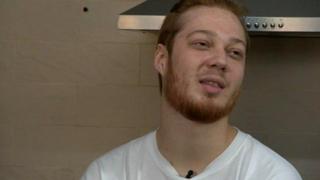 A teenager whose mother donated one of her own kidneys for a transplant now wants a drug to give him his life back.
Ben Morgan-Brownhill, 18, from Barry, Vale of Glamorgan, has a very rare kidney disease which returned only weeks after he received his new organ.
His consultant applied for a drug for six months which might help him.
But it would cost £160,000 and has been refused because of lack of evidence it might help him. But Mr Morgan-Brownhill could still be treated privately.
It comes after the Welsh Government's announcement on Tuesday that the process of applying for funding for drugs that have not been approved cost-effective will be reviewed.
Mr Morgan-Brownhill became ill with scarlet fever when he was 15 but it developed into a very rare kidney disease - membranoproliferative glomerulonephritis (MPGN).
It causes the body's own immune system to attack the kidneys.
Mr Morgan-Brownhill went onto dialysis and, in November, his mother Gemma donated one of her kidneys.
The disease returned after 10 weeks and Ms Brownhill and her son's consultant has been trying to get access to a drug called Eculizumab for six months.
It is designed for another rare and similar blood disorder - atypical haemolytic uraemic - but it is believed it could work in cases like this.
But Mr Morgan-Brownhill has been told there is not enough evidence it will help him although. If the family raise £136,000, Mr Morgan-Brownhill can have the drug privately.
"This is our last hope really," said Ms Brownhill.
Mr Morgan-Brownhill had to twice drop out of taking his A-levels because of his illness and, before his transplant, he had dialysis for nine hours a day for six months.
"That was probably the worst point of everything I've gone through," he said.
"At my age, you want to be free, do what you want. Having to come home for nine hours on the machine. It didn't make me feel well either, I'd be sick."
After the transplant, Mr Morgan-Brownhill said he "felt amazing" before the disease recurred.
Now he is having plasma exchange, which restricts what he can do.
"I'm in hospital two or three times a week, it takes away the whole day," he said.
He has already had to stop playing rugby and has to watch himself when out socialising.
"It would be 100% life-changing [if I had the drug], I'd be able to go out, not have the limitations."
The NHS can, on a case by case basis, decide to pay for unapproved drugs if experts agree a patient's case is exceptional.
But there are concerns the chances of success could depend on where you live.
After coming to a deal with Plaid Cymru, Health Secretary Vaughan Gething has announced an expert panel to look at how the process could be made fairer.
Peter Storey, a director at Kidney Research UK, said much more research was needed, with 3,000 people in Wales being treated for kidney failure.
"There are many kidney diseases, many rare which affect a small number of people for whom obviously the treatment solutions may be very expensive because of the very small volumes," he said.
"Some of these [treatments] can be life-saving and therefore it's vital we find ways to get earlier access to treatment for serious conditions."
It is unclear whether the results of the review would have helped Mr Morgan-Brownhill case.
The Welsh Health Specialised Services Committee is unable to comment on individual cases.
But it said Eculizumab was available to patients in Wales who suffer with rare blood disease or rare kidney disease.
Although not routinely funded for any other condition by NHS Wales, all clinical cases "can be assessed on a case by case basis".
"We care greatly about commissioning the best care for the people of Wales and our commitment is to the provision of treatments that deliver the best evidenced outcomes, cost effectively, so that treatment can be made available fairly to all patients," a spokesman added.
Mr Morgan-Brownhill believes in the long term it will cost more to treat him, while he cannot work or finish his education.
"I don't find it fair at all how money can be controlling over someone's life. A price on what I can and can't do. It's upsetting, it's not just me that goes through it."
Ms Brownhill added: "You can't put a price on my son's life. It's just a chance, I think he's worth that."