Wales assistant coach Osian Roberts honoured by university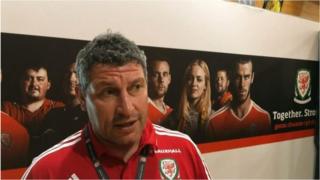 One of the key figures in the Wales football team's Euro 2016 success has been honoured by the University of South Wales.
Osian Roberts, assistant coach and technical director at the Welsh Football Trust, was given an honorary fellowship.
Other recipients included fashion designer Jeff Banks and BBC Wales director Rhodri Talfan Davies.
The ceremony was held at the Treforest campus on Tuesday.
Mr Roberts was born in Anglesey and played for Bangor City before taking up a scholarship in the United States and playing in the America soccer league.
He worked in football development on Anglesey before taking up his technical director role with the national team and was promoted to assistant manager in July 2015.
The full list of fellows is:
Prof John Andrews, Pro Chancellor, University of South Wales
Jeff Banks, fashion designer
Prof Amanda Chessell, chief architect, IBM Software Group
Prof Jonathan Crego, co-director of Hydra Operations, Hydra Foundation
Lynne Evans, director, RCT People First
Sir Emyr Jones Parry, HM Ambassador to the United Nations (2003-2007); President, Learned Society of Wales
Osian Roberts, technical director, Welsh Football Trust
Rhodri Talfan Davies, BBC Cymru Wales Director
Sir Eric Thomas, Former President, Universities UK