Changes to BBC nations and regions management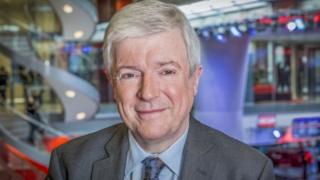 The BBC's director general is to restore the post of director of nations and regions as part of an ongoing shake-up at the corporation.
It means the current directors of the BBC nations, including BBC Wales, will no longer be part of the executive team.
Lord Tony Hall said the changes would ensure the BBC is best equipped to "engage with our audiences".
The post will be advertised shortly but the changes happen immediately.
The role, which was abolished in 2009, will be restored with the incumbent sitting on the corporation's executive board in place of the directors of Scotland, Wales and Northern Ireland.
The BBC's proposed new senior management structure includes a unitary board and executive committee replacing the current Trust board, executive board and executive team.
'UK is changing'
Lord Hall said the creation of the nations and regions department was important because the UK was "changing and changing fast [and] the BBC needs to recognise and address that".
"It will be a challenge in an environment where resources are tight, but it is a priority and the steps taken today recognise that."
The BBC said it already produced around half of its output from outside the M25.
"That is a strong record, but the UK is changing and so must the BBC," it said in a statement.
"The role will bring together and enhance the BBC's offer to the nations and regions of the UK to improve our content while also looking for savings so that more money can be released for content."
The director of BBC Wales will report to the new nations and regions director, along with counterparts in Scotland, Northern Ireland and the hubs in the North, Midlands and South West.
The BBC's future is currently being considered as part of a UK government review of its royal charter.
Its current 10-year charter expires at the end of 2016.
The white paper said the BBC will be required to give "greater focus" to underserved audiences, including those in the nations and regions of the UK.
It also said a Welsh representative will sit on the BBC's new management board. Under the current system a trustee for Wales has a seat on the BBC Trust, while the director of BBC Cymru Wales is part of the executive team.
Lord Hall has committed to spending more on English language programmes in all of the devolved nations, though the detail has not yet been published.