Global firms keen to be seen to back Wales in Euro 2016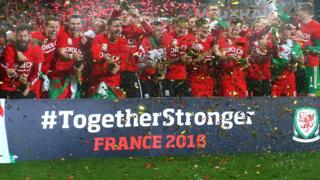 It seems the UK is being swept along on the wings of the Welsh dragon at the moment, after the team's extraordinary success in Euro 2016.
And as Chris Coleman's side prepares for its historic semi-final match against Portugal on Wednesday night, it would appear every Englishman with a Welsh ancestor is coming out in support of the boys in red.
Global firms like Budweiser and Adidas have also been entering into the spirit by tweeting in Welsh, while Google has revealed a surge in interest in Wales and Euro-related searches.
Embracing Wales' football success has been a great marketing ploy for some firms, with Budweiser and Brains offering free beer to fans to celebrate on match-day.
And a bus company in the Vale of Glamorgan is even offering free travel to passengers wearing the Welsh football shirt on Wednesday.
New Adventure Travel said they want to show their support to the team and have asked all staff to wear the Welsh jersey.
Meanwhile Welsh newspapers like the South Wales Echo, the Western Mail, and The Daily Post are full of Wales-related promos and on Wednesday, the Telegraph boldly displayed a banner in Welsh on its front page.
"Mae pawb yn Gymry nawr!" or "We're all Welsh now!", seems to capture that sentiment that is sweeping the UK, and perhaps even further afield.
Analysis by BBC Wales arts and media correspondent Huw Thomas
The newspaper advertising business has been in decline for years, but the explosion of football-related ads shows print is still a powerful draw.
In fact, many news publishers still rely on shrinking newspaper advertising revenue to support their expanding digital businesses.
And the advertisers themselves are savvy enough to tap into the national mood.
They're joining TV presenters, big businesses, politicians and royalty in aligning themselves with the topic that everyone's talking about.
But the newspapers themselves will be hoping to make hay while the sun shines, as the outlook for print advertising remains a stormy one.
Ben Goldhagen, Adidas UK's director of sports performance, said Wales' Euros journey embodied the classic "Cinderella story", because they have surpassed all expectations and shown that anything is possible.
He added Adidas tweeted in Welsh after the Russia game because: "We wanted to connect with the fans and demonstrate that Adidas is a football brand and sponsor who really understood the passion and sheer excitement that surrounded that huge landmark achievement for the team in beating Russia.
"Alongside working with the players and the Football Association of Wales, we also recognised the huge Welsh fan base and the passion they had for supporting their team on what has become a truly special campaign so far and it is this that has really inspired the dedicated work we have put in in social media in particular to support the team across Euro 2016."
'Underdog story'
"Everyone always loves an underdog story and also one that features so many unsung heroes who have come together as a formidable team in their first tournament in over 40 years."
Nick Robinson, marketing director for Budweiser's parent company UK&I, Anheuser-Busch InBev, which has one of its biggest breweries in Magor, said: "Part of Budweiser's brand has always been to connect with popular culture and celebrate epic moments.
"By tweeting in Welsh and providing a free drink to supporters, we want to show them we are supporting them by sharing this epic moment with them."
But it has been the Wales side's self-belief that has won them so much praise throughout the competition, something that has helped propel the FAW's much-lauded "Together Stronger" marketing campaign into the mainstream.
Billy Johnson, creative director at Designroom Sport, which worked with the FAW on the campaign, said it was born out of the sentiment of the team shirt's motto "Gorau Chwarae Cyd Chwarae" (The best play is team play).
"The sign of a good advertising campaign is when people really get behind it and from the start the Welsh team and the FAW had a really good approach even before the qualifiers," he said.
"As their success grew it really caught on, becoming part of the culture, with Chris Coleman repeating it in interviews and pundits and Twitter using it to epitomise the Welsh team's ethos.
"I think global companies have seen this as a brilliant story which a lot of people have connected with and that has presented a lot of opportunities for them."
Peter Barnes, media and marketing manager at FAW, added they were keen to build a campaign which was as much a part of the team's sense of identity as it was part of the fan's and had authenticity.
He said: "At no point did we cajole players or fans to use the hashtag, but instead we placed emotive imagery and messages around the team hotel, on the plane, messages to motivate and inspire, always signed off with "#TogetherStronger" and the players really bought into it.
'Credit to the country'
"It has become their campaign, the fan's campaign, and our players have been an absolute credit to the country on one of football's biggest stages.
"The supporters too have been magnificent; they've exemplified the positivity that can manifest itself around football. Who wouldn't want to be a part of that?"
Chris Hides, founder and managing director at M&C Saatchi PR, said: "At the heart of all great marketing campaigns is a good story and this has really captured people's imagination.
"Every brand wants to attach themselves to it to capitalise on all that positive emotion and goodwill that the team and supporters are experiencing.
"But it has to be authentic, so by showing an affinity with the Welsh supporters and team, they need to strike the right balance."