Euro 2016: Giant Wales football shirt celebrates Wales' success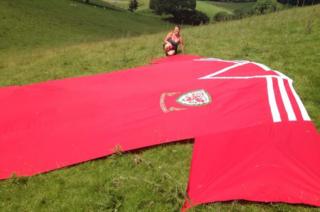 A couple from Gwynedd have made a giant Wales football shirt to celebrate the team's success at Euro 2016.
Lynne Humphreys-McCrickett and her husband John sewed the 6.5m (21ft) by 4.5m (15ft) shirt on Monday.
They planned to hang it outside their home in Minllyn, but have since received requests to put it on Machynlleth town clock and on hillsides.
Wales take on Portugal in the tournament's semi-final on Wednesday.
"We are in rugby heartland here," said Mrs Humphreys-McCrickett.
"People just don't watch football here. It's criminal!
"But the shirt has gone absolutely mental on Facebook," she added.
"Cars keep stopping outside the house to take photos and the local schoolchildren are coming to see it."
The couple said the Wales shirt will stay outside their home for the semi-final, but if Wales progress to Sunday's final, where either France or Germany await, they plan to take it on tour.
This is not the first giant shirt they have made.
They previously made a giant Celtic football shirt and took it to the summit of Snowdon.