FoE claims M4 Newport peak congestion 'lies'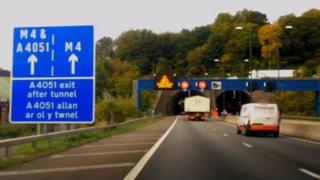 Friends of the Earth (FoE) has accused the Welsh Government of "lying" about congestion on the M4 at peak times around Newport.
The environment group, which opposes the proposed M4 relief road, is angry over claims the motorway was "95% full" in 2014.
It saysc the Welsh Government's own figures show the M4 around Newport is on average 76% capacity at peak times.
The Welsh Government said the FoE claim was misleading.
FoE criticises the use of the 95% figure in Welsh Government literature when it says traffic flow figures, released last month, show the M4 was only at that capacity in four of a 166 possible permutations of junctions, hours and time of year.
Gareth Clubb, FoE Cymru director said the information was used in public displays for a roadshow last September.
"The Welsh Government categorically stated that the road was 95% full in 2014. And yet at peak times of the day, we're seeing some stretches of the M4 around Newport as low as 46% capacity.
"These figures are rock solid proof that the government went to quite extraordinary lengths to deceive the people of Wales in order to blow more than £2bn on a scheme with no convincing rationale."
The proposals - first put forward 25 years ago - are for a 15-mile (24km) motorway and six-lane bridge over the River Usk to ease problems from the bottleneck at the Brynglas tunnels.
Economy Secretary Ken Skates said: "The claim from Friends of the Earth is misleading. What they fail to say is that our statistics clearly show the M4 is at 80% capacity at the Brynglas tunnels, rising to 95% further west towards J28.
"The M4 project would remove this congestion, opening the gateway to south and west Wales. The public local inquiry I announced for this autumn will see an independent inspector thoroughly scrutinise all aspects of the M4 project before a decision is made on whether to proceed.
"Alongside infrastructure improvements to north, mid and west Wales, the M4 project and the Metro are hugely important to our vision for an efficient, integrated transport system for Wales."