Battle of the Somme events to mark 100th anniversary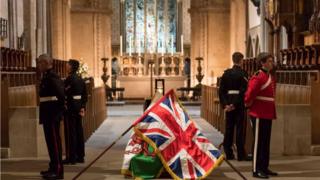 A two-minute silence has been observed to mark the 100th anniversary of the outbreak of the Battle of the Somme.
It took place at 07:28 BST on Friday and follows events including an overnight vigil in Cardiff.
The battle in northern France was one of the bloodiest of World War One - with 19,240 British soldiers dying on the first day.
Remembrance services take place around the UK to mark the battle, which began on 1 July 1916 and lasted five months.
An overnight vigil concluded with a public service at the National War Memorial in Cardiff at 07:00.
On Friday morning, Swansea's Morrison Orpheus Choir will sing at a memorial event at Thiepval in northern France.
Around Wales, churches will be hosting community events.
At the Llangollen War Memorial in Denbighshire, a whistle will be blown at 07:30, followed by a remembrance event at 10:50.
Events will continue through the day, with St Mary's Church, Welshpool, Powys, holding a service at 18:00.