Fraudster Raj Viswanathan stole £400,000 from families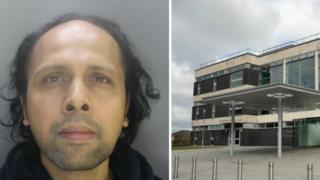 A "devious" con man has been jailed for defrauding two families of £417,000.
Raj Viswanathan, 43, of Wanstead, London, posed as a wealthy man to scam money from people he befriended in Corwen, Denbighshire and Cambridge.
They handed over cash as they were led to believe Viswanathan had £12m in a bank account he could not access until 2017, so they thought they would be repaid.
He was jailed for four-and-a-half years at Mold Crown Court on Tuesday.
Prosecutor Sion ap Mihangel said the defendant befriended victims under the pretext he was a wealthy investor.
"The reality was quite different - this defendant was nothing more than a confidence trickster," he said.
John Stuart Todd, of Corwen, met Viswanathan in 2009 and the court heard he began telling "elaborate lies".
He said he left London to escape the rat race, sold his property portfolio and put his money in an exclusive bank investment account, which he was tied to until 2017.
In March 2010, Mr Todd handed over £6,000 for a camera on the understanding it would be repaid.
'Life in ruins'
At that time, Ian Friend, who lived in Cambridge, was introduced to Viswanathan and was shown a computer screen "highlighting" his investments and agreed to part with an initial £60,000.
The pair subsequently handed over thousands of pounds, believing they would be fully reimbursed due to Viswanathan's apparent wealth.
The fraudster even showed Mr Todd a bank statement featuring the Barclays logo and balance of £12.4m.
Jonathan Austin, defending, said his client had no previous convictions, was on anti-psychotic medication and was remorseful for what he had done.
Judge Rhys Rowlands said: "It is quite plain to me that you are a devious and thoroughly dishonest, mean man determined to take money from innocent victims who have been left with great losses after you frittered away thousands of pounds of their money."
In a victim impact statement, Mr Todd said: "Before I was unfortunate enough to meet Raj Viswanathan, we - myself, my wife and three children - had a happy, secure and unstressful life.
"We may not have been wealthy but we were happy."
The Todd family had to sell everything they had of value to pay legal fees in the civil courts.
Mr Todd described Viswanathan as heartless and greedy adding, "our life is in ruins".