Anti-Semitic claim against Swansea and Gwynedd councils dismissed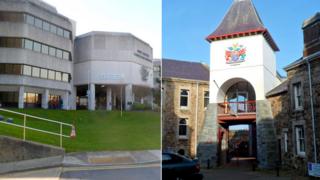 A challenge by a Jewish rights organisation against two Welsh councils has been dismissed by the High Court.
Jewish Human Rights Watch won the right to a judicial review hearing over motions passed by Swansea and Gwynedd councils on "boycotts" on Israeli goods produced on the West Bank.
Lord Justice Simon and Mr Justice Flaux dismissed the claims, which were also made against Leicester City Council.
Lawyers for the councils had argued the case was "misconceived".
JHRW had claimed the councils failed to have regard "to the need to eliminate discrimination and harassment of Jewish people", or the need to foster good relations between Jewish and non-Jewish people.
But the High Court in London ruled the claims towards each council failed on an analysis of the facts and the applicable legal principles.
Swansea Council leader Rob Stewart described the court's ruling as a "victory for free speech" while Gwynedd council said it "naturally welcomes the court's judgement".
Leicester's city mayor, Sir Peter Soulsby, said the judgement confirmed that councillors "have the right... to discuss issues that are of concern to their electorate".
JHRW said it intended to appeal the decision, which it called "disappointing".