Chesterfield sponsor ends deal with Ched Evans' football club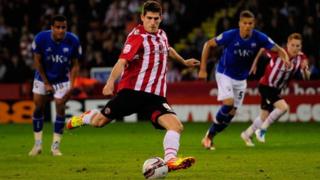 A company has withdrawn its sponsorship of League One club Chesterfield days after footballer Ched Evans signed a one-year deal.
Mr Evans, who faces a retrial over rape allegations in October, had his conviction quashed in April.
Derbyshire fitting firm HTM Products has sponsored the club for six years but has said it will no longer do so.
The ex-Wales international served half of his five-year term and was released from prison in October 2014.
The former Sheffield United, Manchester City and Norwich player has always denied raping the woman.
A post on the HTM Products Derbyshire LTD Facebook page said: "In light of recent events, HTM products has ceased all sponsorship arrangements with Chesterfield football club."
After signing for Chesterfield on Monday, Mr Evans said he felt "excited and privileged" to be offered the chance to resume his football career.
He was jailed in 2012 for raping a 19-year-old at a Premier Inn near Rhyl, Denbighshire.