Euro 2016: Fans' joy as Wales reach quarter finals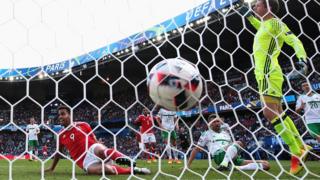 Wales football fans are celebrating witnessing history after the team reached the quarter finals of Euro 2016.
Wales beat Northern Ireland 1-0 in the last 16 game at the Parc des Princes on Saturday thanks to an own goal.
Wales went 1-0 up in the 75th minute after Gareth McAuley hit a ball fired across the goal by Gareth Bale.
It is the first time Wales has made it to the knockouts of a major tournament since the 1958 World Cup.
Reports suggested up to 50,000 Welsh fans went to Paris, with many heading to the 90,000-capacity fan zone.
Some of those left to cheer from home headed to Cardiff's fan zone to watch on the big screen in Cooper's Field, where Cardiff council told BBC Wales it was expected to be full to its 6,000 capacity, with people still queuing to get in after kick-off.
Wales had previously finished top of Group B after two wins and a loss. After Saturday' win against Northern Ireland, they could face either Hungary or Belgium in a quarter final in Lille on 1 July.
In Paris, Nick Ahern, 31, of Swansea, said he felt "perplexed" after the win.
"I'm just pretty astounded really. We didn't play well... and to see us come through the other side of that, it just showed a lot of strength in that team," he said.
"There's no telling what could happen next really."
He said he "never thought" he would see Wales at a major finals.
Of making the quarter final he said: "I don't know how to process it yet."
Darren Richardson, 48, of Wrexham, said: "It was nerve-wracking at the end but I think we just edged it."
He said he did not think he would see Wales in a quarter final in his lifetime.
"That's why we have come over to France," he added. "We couldn't get a ticket to the game but at least we are here in the fan park."
He said the atmosphere in the Paris fan zone had been "superb".
Dan Shatford, 26, of Newport, said: "It was a poor game, both teams didn't want to lose, but we just did what we had to do."
He said the atmosphere in Paris has been "amazing".
Thomas Frederick, 30, of Penygraig, Rhondda Cynon Taff, said he was "secretly" starting to think Wales could even lift the trophy.
"We couldn't have asked for a more favourable draw. To see Spain, England, Italy, France, Germany on the opposite end, I think that breeds confidence in itself," he said.
"Just to know that a passage to the final, if we play to our capabilities, is probably within our targets."
Also in Paris, Steffan Griffiths, 24, of the Swansea valley, said he was also starting to believe something big was on the horizon.
He said: "Welsh football has had some bad luck over the years... but if we get a bit of luck here we've only got one big team to face and that would be in the final. One game then, who knows?"
Paris' fan zone, situated near the base of the Eiffel Tower, was able to hold 90,000 people - almost double the capacity of the stadium.
Security at the site, located at the Parc du Champ du Mars, was extremely tight, with a perimeter guarded by law enforcement authorities and tight checks and restrictions on items allowed inside.