New Theatr Clwyd director wants longer funding pledge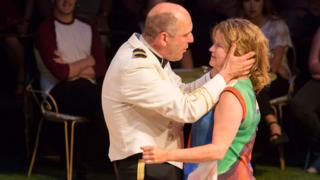 The head of one of Wales's most prestigious theatres has called for greater financial certainty for the arts.
Tamara Harvey, who is artistic director of Theatr Clwyd, Mold, Flintshire, said public funding was currently only guaranteed for one year at a time.
She said similar organisations in England had three years' notice.
Arts Council Wales (ACW) said longer term funding was currently under consideration by the Welsh Government.
Theatr Clwyd received just over £1.57m from ACW for 2015/16 with another £225,700 for its youth work.
Both grants were cuts on the previous year.
Ms Harvey said it was a "no brainer" that Welsh organisations received similar warning about their budgets.
'Keep shouting'
"It's tricky, and it's really tricky here because we only know about our funding year by year. If we could ask for anything it would be for longer term funding."
"In England you get a three year funding agreement, and that does enable you to plan more.
"And that would be such a gift to the arts organisations in Wales, if that was something that were possible.
"I think we're crying out for it. It's just something we'll have to keep shouting about, and we have to keep shouting about how important the arts are in people's lives, because they do make a difference.
"It's vital that we keep on being able to make work, and one of the ways we can do that is by knowing at least for three years that we have the funds and means to do so."
ACW chief executive Nick Capaldi said: "Many arts organisations, such as Theatr Clwyd, plan many years ahead so that they can attract the very best directors and actors.
"Three-year funding would clearly help, and we have been pressing the Welsh Government to allocate three-year funding to the Arts Council. This is currently under consideration by the Welsh Government."
Ms Harvey, who began her career at Shakespeare's Globe, is making her directing debut for the company with Shakespeare's comedy Much Ado About Nothing.
It is being set in 1960s Portmeirion, which she says is ideal for the story of a small community - with an Italian twist.