Cardiff steel firm Celsa says EU regulations 'not real problem'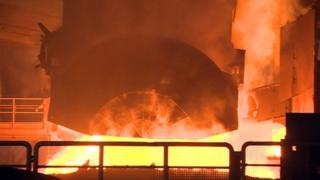 Celsa is the latest major firm in Wales to write to its workers warning of the risks of leaving the European Union.
It employs around 1,000 people in Wales, mostly in Cardiff, and another 750 across the UK.
It comes on the day motor giant Ford also wrote to its staff to reiterate why it thinks Britain is better staying in the EU.
But Vote Leave's business council said: "The single market isn't a nirvana, it's a mirage."
It added: "The single market's a protectionist area."
Ford employs almost 2,000 people at its Bridgend plant.
The world's biggest car manufacturer, Toyota, has sent an open letter to staff at its Deeside and Burnaston plants clarifying its position regarding the UK's continuing membership of the EU.
The company said the letter was in response to continued misrepresentation of Toyota's position by Vote Leave.
Ford and Airbus have also complained about being misrepresented by the campaign to withdraw from the EU.
'Uncertainty'
All four are Welsh government anchor companies, which are global or international organisations with headquarters or a "significant corporate presence" in Wales.
"The European Union, and EU regulations, are not the real problem for British steel manufacturers," the letter from Celsa said.
"The key issues that we face continue to be getting access to competitive electricity costs and making the whole supply chain appreciate the benefits of the circular economy and sourcing responsibly.
"We are fighting to resolve these issues but they are not going to be solved by leaving the EU. In fact, for reasons of economic uncertainty, they may well get more difficult to address."
Earlier this month Lord Bamford, chairman of JCB, one of Britain's most successful manufacturers and which has a factory in Wrexham, wrote to his company's UK 6,500 employees to explain why he favours a vote to leave the European Union.
Entrepreneur Sir James Dyson told the Daily Telegraph Britain would gain more from leaving the EU than it would lose.
Vote Leave campaigner Boris Johnson said: "If we Vote Leave we will be able to forge bold new trade deals with growing economies around the world.
"These are deals that the EU has tried and failed to achieve due to protectionist forces in Europe.
"After we liberate ourselves from the shackles of Brussels we will be able to create hundreds of thousands of new jobs right across the UK, including in Wales."