Euro 2016: Fans celebrate as Wales beat Russia 3-0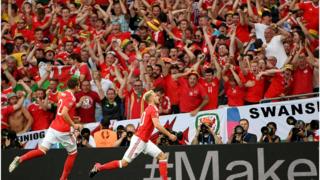 Welsh football supporters are celebrating as Wales have made it to the next round of Euro 2016 following a 3-0 win over Russia in Toulouse.
Wales won group B, securing their place in the final 16 of the tournament.
Aaron Ramsey and Neil Taylor gave Wales an early lead, while Gareth Bale scored in the second half.
The game had been designated high-risk after violence in Marseille and Lille, but there have been no reported incidents.
Fans were in fine voice at the fanzone in Toulouse, chanting "we are top of the league" as phones were checked for the latest updates from England's game against Slovakia which ended in a 0-0 draw.
At the final whistle, arms and beers were thrown into the air in celebration of the win and delighted fans were quick to praise their team's efforts.
Stephen Palmer, 49, of Port Talbot, said: "My reaction to the game is... marvellous.
"We're through, that's all that matters. We're through and I'm staying in France for another week."
Samantha Caniff, 28, of Tredegar, watched the game in the Toulouse fanzone and said: "All the family watched the game, my mum and the baby. We stayed out and really enjoyed it."
Gareth Robins, 31, of Cwmbran, said: "We absolutely played them off the park.
"Ramsey and Bale were untouchable."
His dad, Mark Robins, 51, said: "That's what we came down here for.
"This has been absolutely the icing on the cake."
Before the match there had been some apprehension among some supporters over the potential for trouble, but most said the atmosphere in the city had been good-natured.
It comes after Russia were given a suspended disqualification from Euro 2016 after violence at the game against England in Marseille.
French prosecutors blamed a group of "well trained" Russian hooligans for the disturbances and the Haute-Garonne prefecture raised the security risk-level of the Wales v Russia game to three on the one to four scale.
But British police said French counterparts had taken "sensible and positive measures" to try to prevent trouble, while Vince Alm of the Football Supporters' Federation Cymru said Russian and Wales fans had been "mixing well" in Toulouse's bars.
Supt Steve Furnham from South Wales Police, who is in Toulouse, said French police had taken on board suggestions from British forces on policing the fans, including removing objects that could be thrown such as tables and chairs in the street, which he said had worked successfully in Lens and Lille.
Alcohol sales were also been restricted in parts of the city.
Supt Furnham said French officers had asked Welsh colleagues to intervene if fans were getting a bit "boisterous" and talk to them, rather than resorting to tactics such as using tear gas to disperse crowds.
Welsh officers reported on social media on Monday: "Pleased to report no incidents overnight and the officers are now being briefed for match day. C'mon Wales!"