Warning of more heavy rain and thunder across Wales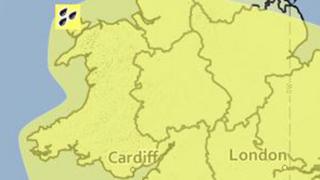 Heavy rain and thunder could bring more disruption to parts of Wales after downpours on Tuesday saw some areas hit by flash flooding and road closures.
Shops in Wrexham closed early after a number of roofs were damaged and emergency services were called to tackle flooding at some properties.
The Met Office issued a severe weather warning of heavy rain across all parts of Wales for Wednesday.
It said up to 25mm could fall in certain locations.
The Met Office said: "Scattered heavy, thundery showers are expected to develop yet again on Wednesday, and will lead to slow-moving downpours.
"As on preceding days, some locations will miss these downpours, but please be aware of possible localised flooding and disruption to travel where they do occur."