Drug deaths in Dyfed-Powys Police area prompts roadshow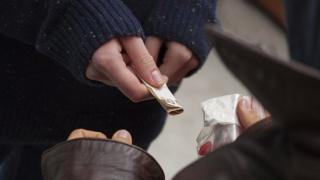 A series of recent deaths thought to be related to a batch of opiates has led to a health campaign in west Wales.
It also aims to raise awareness of blood-borne viruses and the risks of mixing drugs and alcohol.
The campaign is dispensing kits to treat overdoses from a black bus.
Dyfed Drug and Alcohol Service said 48 drug users had been given the kits containing medication which blocks or reverses the effects of opioids, saving five lives since January.
Authorities have expressed "serious concern" following deaths thought to relate to a batch of heroin and opiates in mid Wales.
The bus stops:
2 June: Asda car park, Pembroke Dock
3 June: Station Road, Llanelli
4 June: Guild Hall, Carmarthen
Rowan Williams, of Drugaid, said: "Over the years we have seen far too many lives destroyed by drugs - not just the users but also their families and friends, after all, drug users are also somebody's son or daughter, mother or father.
"It is so sad that we are yet again seeing individuals die as a result of drug-taking."