One of the 'busiest weekends' for Wales lifeboat crews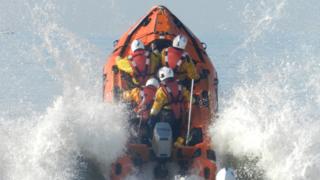 Lifeboat crews said they have had one of their busiest weekends so far this year with at least 31 launchings.
It came as the RNLI opened its new lifeguard units offering safety advice on Rhyl and Prestatyn beaches. It will also provide the service in Bridgend county and Swansea.
The charity helped more than 900 people on 32 beaches in Wales last year.
The RNLI urged people to take care on the coast for the rest of the school half term holidays this week.
Mechanical failure
Over the bank holiday, Llandudno and Conwy RNLI helped 10 people who were cut-off by the tide, including a nine-month-old baby.
Rhyl RNLI refloated an speedboat with two adults, a child and a dog on board.
Porthdinllaen and Beaumaris RNLI towed a yacht with mechanical failure to safety and the Conwy lifeboat helped a yacht with two people on board,
Crews also helped a broken-down speedboat and jet ski near Shell Island, where another jet ski was trying to tow both vessels. Six people were rescued, including two children.
A fishing vessel off Skomer Island was towed to safety and Barry Dock RNLI helped a speedboat with engine failure.