Welsh baby heart defect team wins national award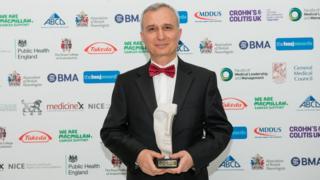 A medical network charged with spotting heart defects among unborn babies in Wales has won a prestigious award.
The Welsh Fetal Cardiovascular Network was named Cardiology Team of the Year at the British Medical Journal Awards 2016 in London earlier this month.
Its work has seen deaths from one heart defect fall to zero since 2008.
Network founder and consultant paediatric cardiologist at Cardiff's University Hospital of Wales (UHW) Dr Orhan Uzun said he was "honoured".
Dr Uzun said he realised soon after his appointment at UHW in 2001 that national antenatal detection of congenital heart defects was poor.
"People from different parts of the country were not getting the same quality of service. And I wasn't happy that some people had to travel for two hours to see me - two hours there, two hours back, it just wasn't fair," he said.
Better training
So he set out plans for nationwide improvement through a network of centres, a "complete team" approach and better training for ultrasonographers.
He said health services were losing 10% of babies born with transposition of the great arteries - where the two main blood vessels leaving the heart are switched - before 2008.
"Since 2008, we haven't lost a single baby," he added.
By 2010, by Welsh Government-funded body Antenatal Screening Wales was able to introduce a new screening test, the outflow tract view, making Wales the first UK nation to do so.
Dr Sue Morris, consultant paediatric radiologist at UHW said the network - officially founded in 2014 - and Antenatal Screening Wales had overseen "dramatically improved detection rates of all forms of heart disorders".
Dr Uzun added: "I am honoured to be the lead of this fantastic network in Wales that is full of enthusiastic and hardworking team of sonographers, radiologist, obstetricians and midwives who work tirelessly to raise the standards of care continuously."