South Wales schools improve, but from 'low base'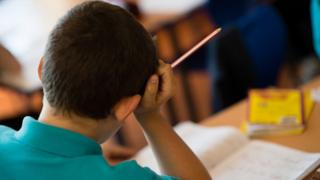 Pupils in central south Wales have improved in the past three years, many from a "low base," a report has said.
Estyn has published its report on the Central South Consortium, one of four consortia tasked with improving schools' performance.
Only a minority of secondary schools' standards were judged 'good' or better.
It said performance in the area had improved at a faster rate than elsewhere, but in several places this was from a low starting point.
Central South Consortium managing director, Hannah Woodhouse, said: "The region has seen rapid improvement over the last three years, this is down to the hard work of pupils, teachers and support staff, head teachers and governors."
The gap in performance between girls and boys in the region, which covers Bridgend, Cardiff, Merthyr Tydfil, Rhondda Cynon Taff and the Vale of Glamorgan, is the smallest in Wales.
But the report said boys' performance was "far too variable".
Ms Woodhouse added: "We know that there is further to go to reduce variability in standards in secondary schools in particular and this area remains a significant priority for us."
The performance of pupils eligible for free school meals also improved faster than other regions - again from a "very low base".
Attendance also improved and fewer schools required a higher degree of support over the past two years, but there were still "significant concerns" in a minority of schools.
The existence of the regional consortia has been controversial and criticised by some as being an extra level of bureaucracy.
During the assembly election campaign, the Welsh Conservatives, Plaid Cymru and new Education Secretary Kirsty Williams' Welsh Liberal Democrats promised to scrap them.
Ratings
Support for school improvement: Adequate
Leadership: Good
Improving quality: Good
Partnerships: Good
Resource management: Adequate