Wales Book of the Year 2016 shortlist announced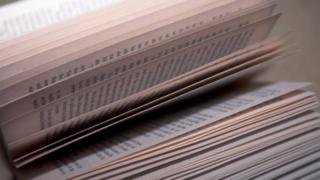 After months of reading and deliberating, the Wales Book of the Year shortlist has been announced.
Judges have chosen their favourites from 90 entries, with the winners announced at a ceremony in Merthyr Tydfil on 21 July.
Category winners will receive a prize of £1,000, and the main award winners in each language an additional £3,000.
They will also be presented with a specially commissioned trophy by artist Angharad Pearce Jones.
English language shortlist:
The Roland Mathias Poetry Award
Love Songs of Carbon, Philip Gross (Bloodaxe Books)
Boy Running, Paul Henry (Seren)
Pattern beyond Chance, Stephen Payne (HappenStance Press)
The Rhys Davies Fiction Award
The Girl in the Red Coat, Kate Hamer (Faber & Faber)
We Don't Know What We're Doing, Thomas Morris (Faber & Faber)
I Saw a Man, Owen Sheers (Faber & Faber)
The Open University in Wales Creative Non-Fiction Award
Losing Israel, Jasmine Donahaye (Seren)
Woman Who Brings the Rain, Eluned Gramich (New Welsh Rarebyte)
Wales Unchained, Daniel G. Williams (University of Wales Press)
Welsh language shortlist:
Aberystwyth University Welsh-language Poetry Award
Nes Draw, Mererid Hopwood (Gomer)
Hel llus yn y glaw, Gruffudd Owen (Cyhoeddiadau Barddas)
Eiliadau Tragwyddol, Cen Williams (Gwasg y Bwthyn)
Welsh-language Fiction Award
Norte, Jon Gower (Gomer) Y Bwthyn, Caryl Lewis (Y Lolfa) Rifiera Reu, Dewi Prysor (Y Lolfa)
The Open University in Wales Welsh-language Creative Non-Fiction Award
Pam Na Fu Cymru, Simon Brooks (Gwasg Prifysgol Cymru)
Dyddiau Olaf Owain Glyndŵr, Gruffydd Aled Williams (Y Lolfa)
Is-deitla'n Unig, Emyr Glyn Williams (Gwasg Gomer)
Lleucu Siencyn, chief executive of Literature Wales, said they are "extremely proud" that the awards promote the richness and diversity of contemporary Welsh literature.
"The 2016 shortlist is proof, if proof was needed, that the writers of Wales continue to make their mark on the world's literary map," she said.