Questions over assistant auditor general's qualifications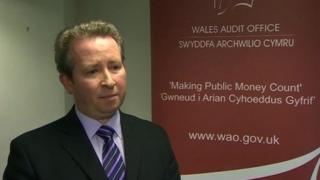 Questions have been raised over whether the assistant auditor general for Wales is qualified to hold his post.
The leader of Carmarthenshire council has become the latest public official to raise an issue with Anthony Barrett.
It follows a complaint by Anthony O'Sullivan, the suspended chief executive of Caerphilly council.
Both authorities were deemed to have acted unlawfully over separate payment schemes in reports written by Mr Barrett.
The Wales Audit Office (WAO) is the public spending watchdog for Wales and Mr Barrett is responsible for auditing local government bodies.
The WAO said "all reports and certificates issued by Anthony Barrett are valid".
He is a chartered public finance accountant and a certified fraud examiner who has held several positions in the public and private sector.
Carmarthenshire council said leader Emlyn Dole was "seeking clarification regarding Mr Barrett's appointment and whether he was qualified to be appointed in the first place and qualified to be an 'appointed auditor' under the act".
Mr O'Sullivan and two other Caerphilly council officers were investigated by police after a report by Mr Barrett in 2013 claimed a process which saw them receive pay rises of up to 20% was "unlawful".
They were charged by police but a judge dismissed the case against them last year.
In 2014, Mr Barrett found Carmarthenshire and Pembrokeshire councils had acted unlawfully when they let their chief executives opt out of a pension scheme to avoid potential tax payments.
At the time the councils questioned the findings, but ended the schemes.
Findings by the WAO triggered a failed vote of no confidence in the leadership of Carmarthenshire council.
A Pembrokeshire council spokesman said the authority was "aware of recent developments in the Caerphilly County Borough Council case as a result of recent media coverage and is considering its position as a consequence".
The WAO said: "Anthony Barrett's qualifications as an appointed auditor at that time do not call into question the validity of any of the actions he took in relation to any local government body.
"All reports and certificates issued by Anthony Barrett are valid".