Rumney's Eastern High head teacher calls for 'leap of faith'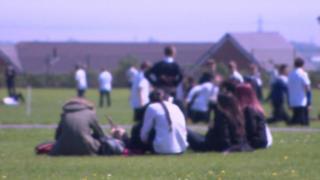 The head of a struggling Cardiff secondary school has asked parents to take a "leap of faith", saying he has "absolute belief" it can turn around.
Armando Di-Finizio was brought into Eastern High in Rumney nearly 18 months ago after watchdog Estyn gave it one of its worst ever inspection reports.
Only 71% of the next year's places have so far been filled.
Now he says prospective parents can visit the school at any time to see it "as it really is."
The school is still in special measures and GCSE results were the worst in Wales last summer.
It has 240 places for September but only 143 have been taken up.
"It takes a while for parents to begin to believe in a school when it's gone downhill or things have gone wrong," said Mr Di-Finizio, who was brought in from Weston-super-Mare, after turning around a struggling school there.
"We're turning that around now, parents are beginning to believe and I know members of staff tell me they'd have their children here.
"Numbers have gone up this year quite significantly but we have to very mindful at the school that the community is watching us and Estyn is watching so we have to be perfect and that's what we strive for."
Mr Di-Finizio said despite financial pressures of having fewer pupils, he was keen to keep smaller class sizes to improve results.
He has now invited any parents to see the school for themselves - without an appointment - to be given a tour of the school by himself or another senior staff member.
"We want parents to see the school as it really is - so they know exactly what they're coming to.
"They need to look at what's going on with the classes - are they orderly, do we have capacity to correct things straight away when things go wrong?"
"I can do a glossy open evening but I don't want to stand and be a used car salesman. I want people to see it and see we're making real progress here.
"Our results have doubled this year, our exclusion rates are now the best in Cardiff, so we're progressing, and I hope parents will see that.
"I have absolute belief in this school and totally believe it can work."
Eastern High was created in 2014 out of Rumney High School and the closure of Llanrumney High School, which was in special measures.
A new £25m school is being built on the Cardiff and Vale College site in Trowbridge, to open next year.
"We're moving into a new build - but I don't want that to be the thing that attracts parents," said Mr Di-Finizio.
"I want it to be about the quality of the education and the welfare we provide. I believe they will see that in the next couple of years."
Meanwhile, elsewhere in the city, Cardiff High School in Cyncoed is oversubscribed, with 32 children in the catchment area on a waiting list after failing to get places.
In total, it received 635 applications for only 240 places.
Councillor Sarah Merry, Cardiff cabinet member for education, said: "It's almost inevitable parents would chose a school that's judged to be one of the best in Wales."
She regretted parents who could not get their first choice but said part of the issue with Cardiff High was a shift in choices parents made between faith and Welsh medium education and local education authority (LEA) places.
Sometimes the supply of school places "was not predictable," she added.