Low birth weight 'increases death risk' to adolescence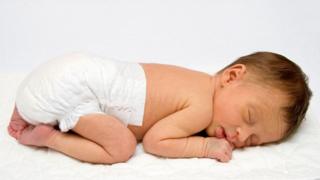 Babies with a low birth weight are at an increased risk of dying all the way through to adolescence, researchers have found.
Deaths in babies and children of very low birth weight - under 2.5kg (5.5lb) - were 130 times more frequent than those of normal birth weight babies.
Nerve and lung conditions were the leading causes of death in that group.
The research by Cardiff University looked at more than 12 million live births between 1993 and 2011.
From that group, there were nearly 75,000 deaths between birth and 18 years of age, with 57,623 (77%) happening during a child's first year, and 17,267 occurring between one and 18 years of age.
Of those who died under the age of one, events surrounding the birth, or being born prematurely, were significant causes of death.
'Deaths could be cut'
Professor Sailesh Kotecha from the university's school of medicine said: "We know low birth weight is associated with increased mortality rates in infancy; however, its association with mortality in later childhood and adolescence is less clear cut.
"This study is significant as it shows, for the first time, that low birth weight is associated with increased death rates from infancy right through to adolescence."
The research team said that while the study was observational, they believed it strengthened the need to target factors linked to low birth weights.
Professor Kotecha added: "The study reaffirms the need to tackle important factors such as maternal smoking and deprivation which are well known to contribute to low birth weight.
"By better understanding and ameliorating influences that lead to low birth weight, deaths in infancy and beyond could be cut."