Only Fools star David Jason on producer's 'huge influence'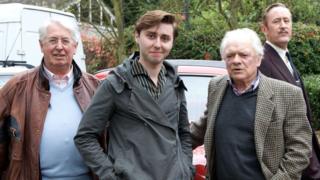 Only Fools and Horses star Sir David Jason has joined tributes to the show's producer Gareth Gwenlan.
Sir David, Del Boy in the long-running comedy, said Mr Gwenlan had been a "huge influence and talent" in the BBC comedy department.
"On a personal level, he always had an easy charm, a great sense of humour and a warm and engaging personality," he said.
Mr Gwenlan, 79, died on Sunday.
Born in Brecon and brought up in Cefn Coed, Merthyr Tydfil, he became an actor and theatre director before joining the BBC in the mid-1960s.
Mr Gwenlan progressed to become the BBC TV's head of comedy - commissioning a string of hit sit-coms - and was also later head of comedy at BBC Wales.
"I worked with him on one of the first episodes of Only Fools and Horses when Ray Butt was unavailable and Gareth stepped into the role of director," said Sir David, in his tribute.
'Effortlessly'
"With his experience and command of comedy, he very easily took over that daunting task.
"He eventually became the producer of that particular show and with his knowledge and expertise, he managed to apply that and assist not only the cast and crew, but especially John Sullivan, the great writer.
"As easy as it looks, being involved in comedy is really very difficult. He always applied his skills effortlessly and having come through the ranks of comedy through theatre and then television, he earned his apprenticeship and then was able to influence huge comedy successes."
Sir David's co-star Nicholas Lyndurst - Rodney Trotter - said: "Every day working with him was a joy".
John Challis who played Boycie, said he had a "sharp eye" and an "instinct" for comedy.