Dyfed young musician project under threat after cuts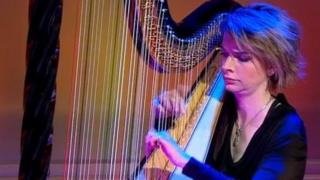 There are fears for the future of a music competition for young people in south west Wales.
Organisers have said the Dyfed Young Musician and Young Composers project is in jeopardy due to a £23,000 shortfall after losing Arts Council of Wales funding.
Emyr Wynne Jones, an adviser to the competition, called it "demoralising".
Arts Council of Wales said it had to make "difficult choices between competing applications".
The competition involves masterclasses, concerts and workshops for performers and composers throughout south west Wales and involves about 1,000 school pupils.
Previous winners include former Royal harpist Catrin Finch.
Mr Jones said: "It's obviously totally demoralising for something that's been going on and has enriched the lives of young people in this part of Wales for over a quarter of a century is under threat."
A spokesman for the Arts Council of Wales added: "Each year we invest hundreds of thousands of pounds in arts activities for young people.
"It's a sign of the enormous creative talent that we have in Wales but it does also mean, unfortunately, that we have to make difficult choices between competing applications when the available funds are so heavily oversubscribed."