Welsh flag will fly after Eurovision's u-turn decision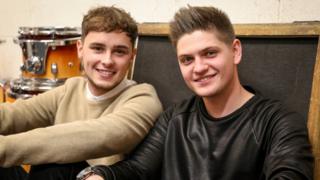 The Welsh flag will be allowed to fly at the Eurovision Song Contest after organisers decided to "relax the flag policy".
It had been on a list of banned flags, along with ISIS, despite the UK entry featuring a Welsh singer.
Previously only flags of contest members and UN states were allowed due to the event's non-political nature.
Organisers have now agreed to allow the national, regional and local flags of the participants.
The Eurovision Song Contest announced that it had held "constructive talks" and that its proposal had been approved by its governing body, the Reference Group.
This means the Welsh flag can fly at the Stockholm final on 14 May in support of the UK entry, which features Joe Woolford from Ruthin, Denbighshire.
He will performing You're Not Alone with Jake Shakeshaft from Stoke-on-Trent.
Both singers were former contestants on The Voice UK.