Queen's birthday invite for Wrexham war veteran Bill Evans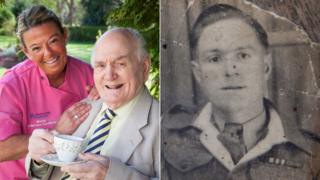 A World War Two veteran who helped liberate Brussels is being honoured by the Queen.
Bill Evans, 91, has been invited to the Buckingham Palace garden party to celebrate Her Majesty's 90th birthday.
The ex-Royal Welsh Fusilier, a resident of Gwern Alyn Care Home in Wrexham, has asked his favourite senior care practitioner Mandy Williams to join him on 26 May.
Mr Evans said: "We are going to have a great day in London."
Born in Kerry, Powys, Mr Evans joined the Army in 1943 and saw action in France, Belgium, Holland and Germany.
Having helped to liberate Brussels, his regiment went back after the war for a parade and were given the freedom of the city.
After the war and his military service ended, he returned to mid Wales before working on a farm at Eardiston, Shropshire.
'Fantastic experience'
The father-of-two said: "I hope to meet the Queen but it doesn't matter, we will still have a lovely day even if we don't.
"And you never know, I might just meet up with someone I served with during the war; wouldn't that be something after all these long years?"
Ms Williams added: "It's going to be a fantastic experience for us both. It's all about Bill and what he did during the war."