Conservatives attack 'sycophantic' Plaid Cymru leaflet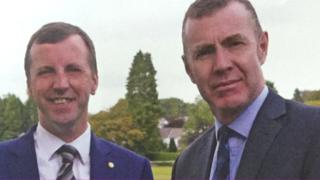 The Welsh Conservatives have attacked a Plaid Cymru leaflet calling one of its candidates the "prophetic son".
Adam Price, standing in Carmarthen East and Dinefwr, is hailed as an "X-Factor politician" who "stands alone in ability", in a leaflet written by the area's Plaid MP Jonathan Edwards.
Conservative rival Matthew Paul said it was "possibly the most sycophantic thing" he had ever seen.
Plaid Cymru claimed he was "bitter" and the Tories were becoming "desperate".
The leaflet, delivered to homes in the constituency, reads: "Once in a generation a politician emerges who stands alone in ability - a politician with visionary ideas."
It continues: "Adam is an X-Factor politician, labelled by some the 'Mab Darogan' - Prophetic Son - of Welsh folklore.
"He became one of the most formidable politicians in Westminster. He won nearly every major political award during his two terms as our Member of Parliament.
"Adam has a real passion for the communities of Carmarthenshire. He is always at his best when fighting for the people and communities he loves."
'Crawling'
Mab Darogan is a messianic figure from Welsh folklore, said to be destined to drive the English out of Britain.
Elected as an MP in 2001, Mr Price stood down at the 2010 general election, diverting his attentions to business and academia before announcing his wish to return to politics via the Welsh assembly.
Responding to the leaflet, Mr Paul said: "Senior Plaid politicians are literally crawling over each other to pay tribute to their returning 'son of Wales', Adam Price.
"Fortunately he is also pretty good at talking himself up, and [Plaid leader] Leanne Wood will surely now know that the knives are sharpening."
Mr Paul added that the leaflet was "quite possibly the most sycophantic thing I have ever seen".
A Plaid Cymru spokeswoman said: "These are curious comments from the Conservative candidate who only recently publicly stated that Adam Price is a talented politician.
"The bitter tone of these remarks must be down to the fact that the Tories in Carmarthen East and Dinefwr went backwards at the last election.
"As the Tories fall further behind in the polls, they are clearly becoming increasingly desperate and irrelevant.
"Leanne Wood is proud of Plaid Cymru's strong, united and talented team of candidates."